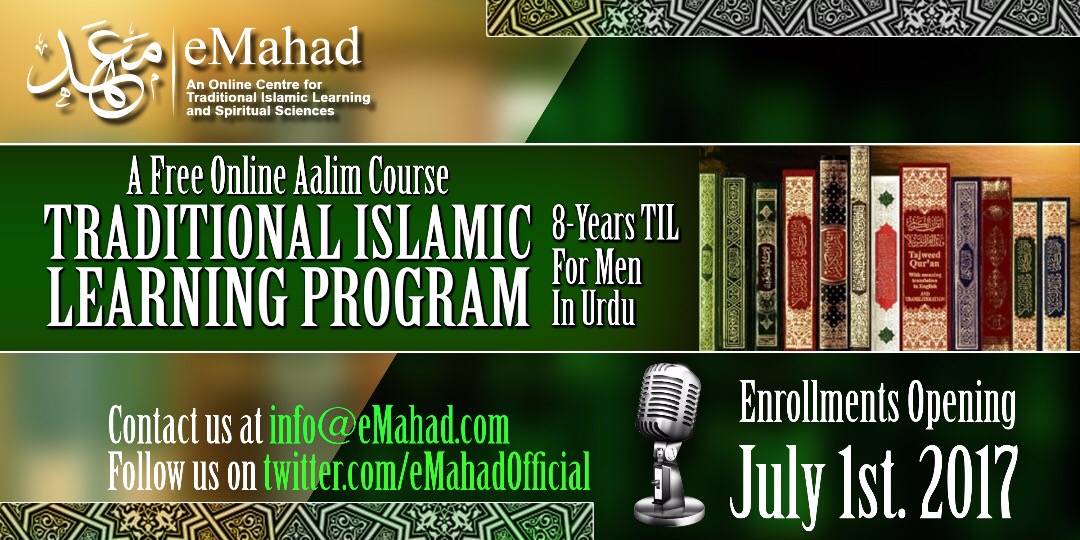 eMahad is offering an 8-year Online Traditional Islamic Learning Program based on the curriculum of Wifaq ul Madaris al-Arabiya, Pakistan covering an in-depth study of Quran, hadith, fiqh, usul al fiqh and Arabic language and grammar. The program will be taught by the experienced and skilled faculty of Mahad al-Faqir al-Islami, Jhang, the parent institution of eMahad, founded by Shaykh Zulfiqar Ahmad Naqshabandi (db). The institute currently has more than 900 students with more than 70 full-time or part-time faculty members.
The classes will be conducted in Urdu over state-of-the-art paid classroom software. The program is conducted free of cost.
Duration: 8 year
Schedule:  Sat, Sun and Mon from 5pm-8pm (Pakistan time)
Language: Urdu/Arabic
Total workload per Week: 9 hours + practice/Takrar sessions + Individual study
InshaAllah all Classes will start from August 1st, 2017
Please note: We are accepting transfer students from other institutes into 2nd and 3rd year of the TIL Program.
2nd and 3rd year classes will begin on August 1, 2017 inshaAllah. If you would like to transfer into 2nd or 3rd year of the TIL Program from another institute please email ilm@emahad.com with (1) the name of the institute you wish to transfer from, (2) grades for exams, (3) reason for transfer. If you are unable to provide final exam scores, eligibility to enter into 2nd and 3rd year  will be determined upon evaluation.
Enrollment Closed!