Course Overview
The Alimah Program is principally designed for students who wish to acquire in-depth knowledge of Islamic sciences. The program covers the traditional curriculum, Dars-e-Nizami of the 'Alimahcourse' which includes:
Arabic language and its various sciences, commentary of the entire Qur'an, Hadith, Islamic law (Fiqh), principles of legal methodology (Usul al-Fiqh), beliefs (Aqeedah), Seerah, Shamail, contemporary issues, and Islamic spirituality.
At eMahad, students are provided with a holistic approach to education. Whlist, obtaining their academic degree, students are provided an opportunity to purify their hearts (tazkiyah) and learn Islamic etiquettes (tarbiyah) through online counseling from Mashaikh and Islamic scholars.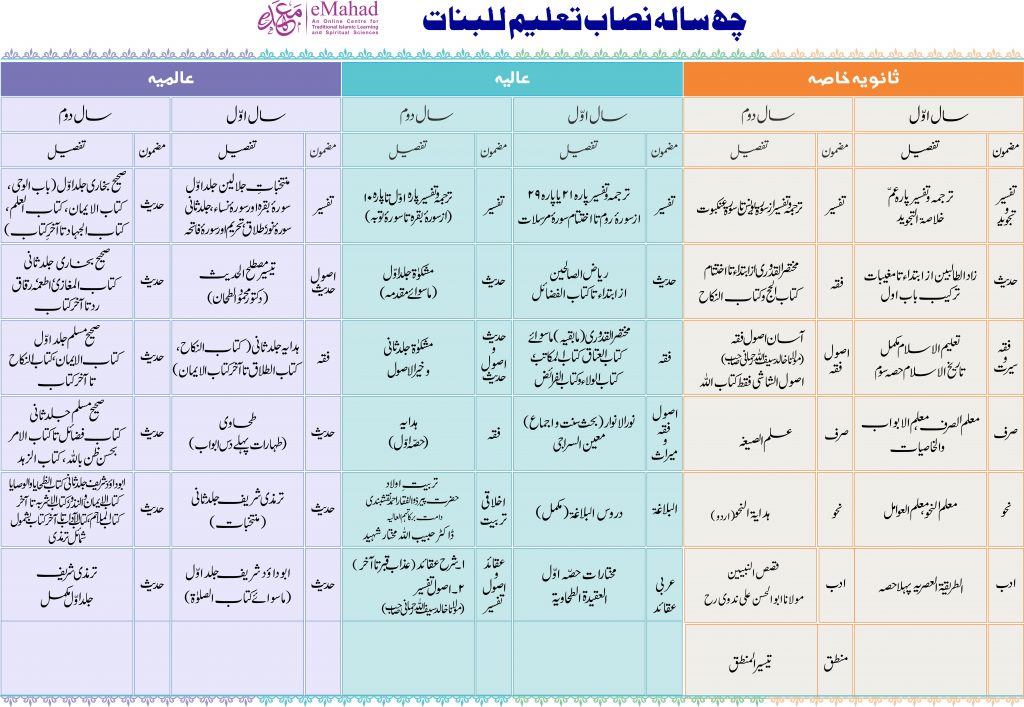 Course Schedule:
Note: Admission fee is not Refundable.
Class's commencement date: 15th. May , 2023
Dates & timings are tentative and may be subject to change
Frequently Asked Questions (FAQs)
I can only understand basic Urdu, can I enroll in this course?
Yes. The course will be run in Urdu. The lectures will be delivered in Urdu and the texts used are in Urdu and Arabic. Efforts will be made to stick to simpler Urdu so that more people can benefit. In the first years the focus will be on developing a strong background in Arabic.
How will I get the books/texts?
We will try to arrange soft-copies/scanned versions of all books that will be taught during the program. Those of you,who are based in countries where books are available would be encouraged to purchase their own book set.
How are the examinations conducted?
Answer: Internal examinations by eMahad will be conducted during the year and also a final examination will be conducted online. Those of you who can visit our parent institution Mahad al Faqir al Islami in Jhang, Pakistan or any of our affiliate institutes in different parts of the world would be encouraged to sit in on site examinations conducted by eMahad.
What degree will I receive by the end of the course?
By the end of the course, Mahad al-Faqir al-Islami, Jhang will issue an Alimah degree.
How are the classes going to be conducted?
Classes will be conducted through online classroom software.
Will I have access to recordings if I miss any class?
Yes, recordings will be made available after every class.
Do I have takraar/practice sessions in addition to the teaching sessions?
Yes, there will be 2-3 hours of takraar/practice sessions per week.
How much weekly workload should I expect in total?
Initially for the first 6 months, the total workload will be around 10-12 hours per week. Please note, the workload for every year will differ as you progress in the program.
Will I be able to attend classes on phone/tablets?
Yes. The classes can be attended through a phone or tablet with internet connection.
Fresh Students, kindly read the following instructions carefully:
Enroll by pressing the button of "Apply Now" given here and pay the fee
Once your application is processed, a welcome email will be sent to you with a student bag-pack holding required details for you to head-start your journey of Ilm with us!
Transfer Students, kindly read the following instructions carefully,
We are accepting transfer students as well. From 2nd Year till 6th Year, Kindly send an email to Til@eMahad.org and provide the following details:

Official name of the Institute you are transferring from
Grade-sheets/Result-sheets/Transcripts of all the years you have completed in your old institute. In case you are unable to provide the grades, then your enrollment to the desired year will be determined by evaluation.
Reason of Transfer